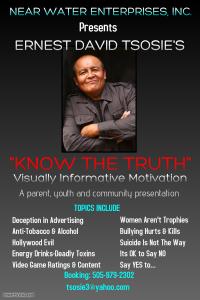 ERNEST DAVID TSOSIE
(SAG-AFTRA, AEA)
Ernie Tsosie is n award-winning actor, comedian, and motivational speaker. Ernie has been a professional presenter and performer since 1996, when he appeared in his first professional acting job for the Actors Theater of Phoenix. Since then Ernie has gone on to work as a professional performer and presenter in films, television, theatre, stand-up comedy and radio, as well as in Native American events, communities, schools and wellness programs.
Ernie is the founder of Near Water Theatre Troupe and Near Water Enterprises, Inc. a company that produces original theatrical, comedy and motivational presentations with a positive message. He is also co-founder and owner of the popular and award winning "James & Ernie Comedy Duo" and the super duper Native American comedy show case "49 Laughs Comedy".
Ernie's acting credits include appearing in two episodes of the highly acclaimed A&E TV show "Longmire" and "Drunk Town's Finest" an official Sundance Film Festival selection executive produced by Robert Redford.
Ernie is proud to be a sober and drug free Native American performer and motivational presenter but more importantly he is a sober and drug free husband, father and Native American man.
Ernie performs and presents acting and comedy with a positive message and the performing arts serves as the vehicle to help pass along these most important of messages. One of his weapons in this war against suicides, depression, alcoholism, addiction and bullying are his own personal testimony of beating the odds himself against these issues.
Humor and laughter along with acting are not only medicine for the soul, they're also amazing and powerful tools! Tools that can be used to gain the trust, confidence, and the attention of people and Ernie does just that, making him a great addition to your project or event as an actor, comedian, motivational speaker, school and conference presenter, and event entertainer.
"It is great to be a Native American but it's even greater to be a sober and drug free Native American!"
– Ernest David Tsosie